The Book
A Memoir of Grand Ambitions, Dreams and Challenges.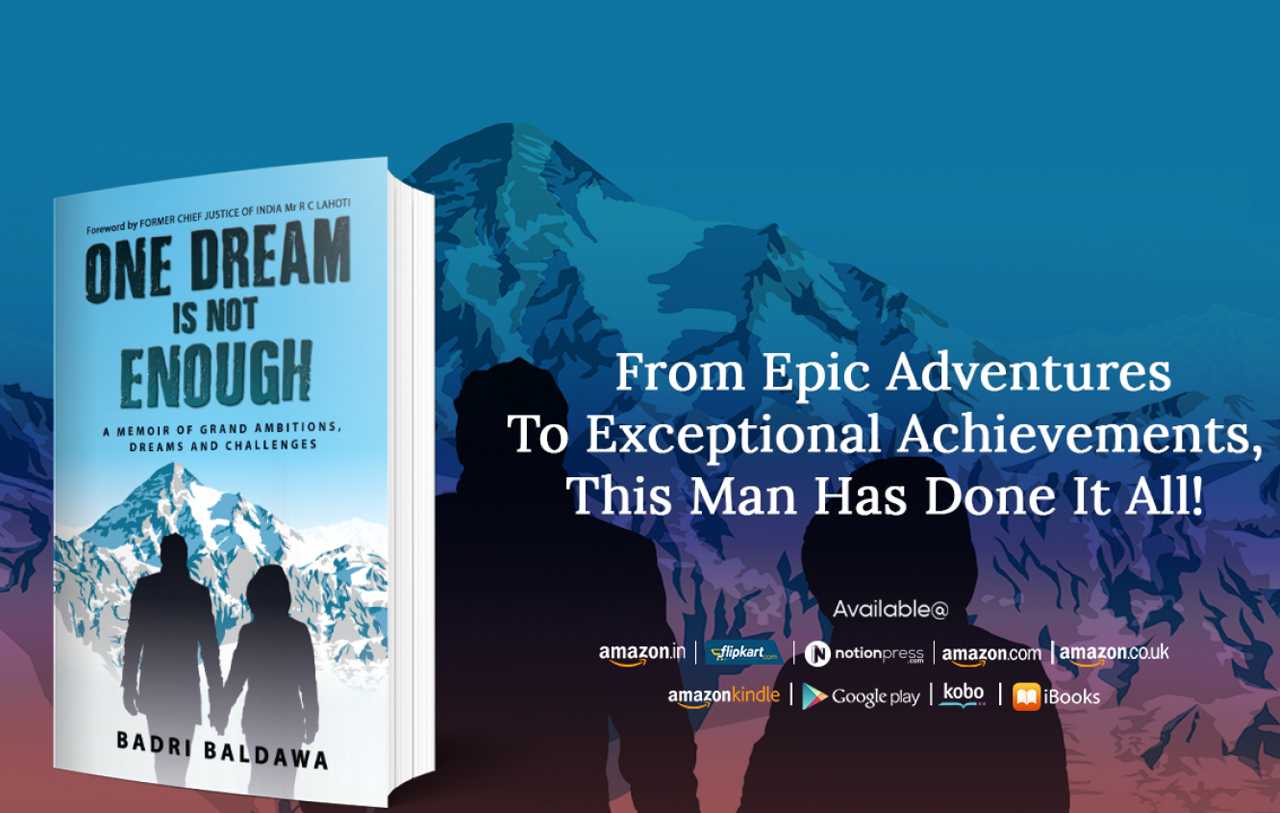 On an epic road trip from Mumbai to London, Badri Baldawa's granddaughter Nishi asks him about his many adventures. She had joined him on his drive around Iceland where their car broke down and she wondered what other adventures her Nana must've had. When Badri tells her about a terrifying incident from his Kailash-Mansarovar trip 30 years ago, it only whets her appetite for his stories. There begins the narration—the life of Badri Baldawa—as told by him, punctuated by the many sights and stops on their 72-day self-drive road trip from Mumbai to London.
The book is an amazing collection of adventures and experiences in 378 pages. The Book is available in 9"x6" Paperback and Hardcover.
The story told here, rather the dream seen and shared, would interest and inspire the youth, may be prompt and push them into travelling and treading into adventures.
Mr.R C Lahoti
Former Chief Justice of India
One dream is not enough is more than the title for a book, it is a Philosophy.
Peter Hillary
Mountaineer to climb Mount Everest and all the Seven Summits
Son of Sir Edmund Hillary, First Summiteer of Mount Everest
I understood Badri's passion for continuing to push the bar higher and live life to the absolute fullest, since a similar mentality has been instilled in me from my parents and grandparents as well.
Alan Mallory
Author, "The Family That Conqurered Everest"
Guinness World Record Holder, Conquered Mt. Everest with his family
It's a memoir for those who love adventure and an inspiration for people who miss the spark in their lives. Badri ji has beautifully narrated many incidences of his life including his remarkable adventures with elegant ease making you be a part of his journey.
Dr. Vinay Jain
Founder, Witty Group of Institutions
President, Goregaon Sports Club
It always seemed like we were talking to someone very young but little did we know that we were in the company of a seasoned traveller, an experienced mountaineer, an obsessive driver, and a hungry explorer.
Sanjay & Tushar
Guinness World Record Holder
15 Limca Book of Record Holder
The contents are delightfully fascinating and riveting.
Naval Modani
Professor of Finance (Retd.)
University of Central Florids, USA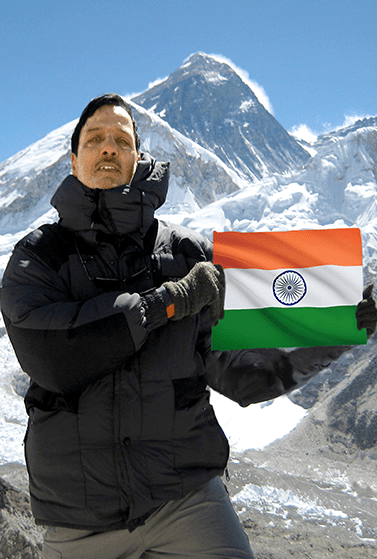 Wanderlust
Travelled to more than 65 countries and still counting.
Pioneer
First Indian to travel on an expediton to the North Pole.
Inspiration
At the age of 64 trekked solo to the Mount Everest Base Camp.
High Flyer
Awarded Udyog Ratna by All India Stainless Steel Association in 2017.
Buy Book
The Book is available in various formats through various online stores.
Gallery
A select few moments captured by Mr. Badri Baldawa.
Blog
As I approached 68 (2013), my son, Anand insisted that I had proven enough in my 45-year long career and it was time I took life a little easy. I could do more of what I love the most - travel. My son-in-law, Navin suggested that I write and share my experiences, "Being a self-made man, you should tell the next generation how you overcame various obstacles, in both, business and societal life." He pointed out that a blog had the potential to take my voice to many, many more.
I am a thrill, fun and adventure seeker 24x7x365. First Indian to step on 90°N, North Pole, trekked to Mt Everest BC and Mt Kailash. Senior most to self-drive from Mumbai to London at the age of 73, a drive through 19 countries, 22,200 kilometres over 72 days. I felt, through this blog, I could and should share my experiences. Hopefully, readers would find some bits useful and if not, they'd enjoy the read. Look forward to interact with you in the comments section.
If one has to travel around the world, one could do it near the equator or the Tropic of Capricorn or Cancer or any latitude. Which basically means you have to go around the axis of the earth. 90°N is also a point on the axis of the earth. At this point, it would take the shortest time to travel round the world.
Keeping this concept in mind, a beautiful event was arranged, "going round the world in 60 seconds"...Read More
A Nepalese sherpa accompanied me. I checked if it was a special occasion or festival that people were enjoying so merrily. The reply was very interesting.
He said: "This particular tribe in Tibet have their dinner early, at sunset and enjoy talking and laughing all the time during dinner. However, they have another very special tradition...Read More